Music
Here at Faith, God has blessed us with a high degree of musical talent, and people willing to use the gifts God gave them in this area. Throughout the year, the members of the congregation are blessed to hear our Rodger's organ and many times up to a quartet of trumpets performing along with the choir.
Choir

Led by Mr. Fred Watkins, the choir sings a wide variety of 4-part anthems.
Contact Carol Lynn to join or get more information, and she will have Mr. Watkins get in touch with you.
Praise Team

Led by Mrs. Sanni Kearns, the praise team leads the Contemporary Service and has a repertoire of over 100 Contemporary Songs. Currently there are 5 vocalists, a trumpeter, flutist, piano, and drums. We are always open to having more join us in praising God through music.
Contact Carol Lynn and she will have Mrs. Kearns contact you.
Handbells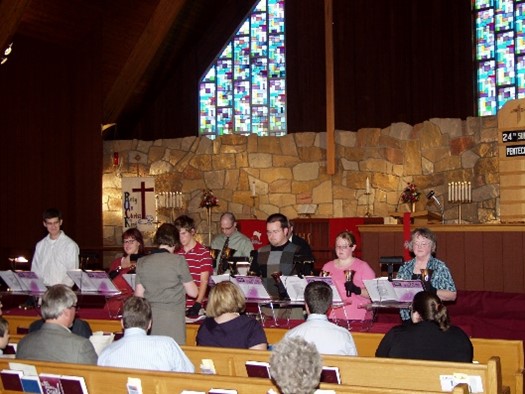 We have a four-octave set of Schulmerich handbell set. The ensemble, led by Mr. David Le Pere typically practices and performs at the 9:30 morning service starting in the fall and performing through the spring.

Contact Carol Lynn and she will have Mr. Le Pere contact you.